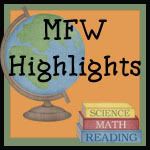 Wow! Another week has FLOWN by!! Where does time go?? We only had school for three days this week due to the fact that Aaron had two different dr appointments on Tuesday! Tuesday just ended up being a run day! I went ahead and did my grocery shopping and errands while we were already out so that we only lost one day of school!
Reading
We did days 28-31 of the Teacher's Manual for reading this week. We skipped the Day 30 Exploration day for reading since there wasn't any assigned reading on that day. So this week we focused on learning the /th/, /oo/ (as in book), and /ar/ sounds. Seth is seeming to get bored with the same drill of reading the words on the page every day. So today when we were working on the /ar/ sound I just wrote the words on the board and had him read them off the board. That really seemed to help.
I have heard a lot about the Pathway Readers by Rod and Staff publications! I have a good friend who uses them and loves them! I was able to get a close look at them a couple of weeks ago and decided that this would be really good for Seth. I went ahead and ordered the first books. We started on the first workbook "Before We Read" this week and Seth is loving it!!! It is so very simple but yet it is keeping his attention and is actually enjoyable for him! We are still doing the MFW reading... but starting in 2nd grade of MFW there is no reading curriculum, and they give suggestions for curriculum to supplement with, but they don't have any recommendations for continued phonics... that is a bit unsettling with me. I believe Seth needs at least another year of phonics, if not a couple of more years. This Pathways curriculum does that! And the good thing about it is that, no matter what I decide for next year, I know I have my reading curriculum decided on :-). (Yes I do believe it is that good that I can go ahead and say it will be our reading curriculum next year...it is impressing me that much! And to top it off - IT IS CHEAP!!!!)
Anyways, I know I probably give too may details, LOL!, but we completed the first 15 pages of the Before We Read workbook this week!
Math
We did days 25-27 of math this week, finishing our concept of numbers and counting. This was an easy week for math for us. We mainly did all of our math through reading this week :-) And I have to say, again, Aaron and Alyssa have really strengthened their counting skills by listening to the stories as well! Aaron impressed his Granny and PaPa last night by counting to 20! :-)
Books We Read for Math this week:
Skip Count by 10, Let's Do It Again by Tracy Kompelein
Skip Count by 5, It's No Jive by Tracy Kompelein
Skip Count by 2, Now Can You? by Tracy Kompelein
1,2.3, It's Easy For Me by Tracy Kompelein
Too Many Balloons by Catherine Matthias
Buzzing Bees: Discovering Odd Numbers by Amanda Doering Tourville
Click, Clack, Splish Splash: A Counting Adventure by Doreen Cronin
Science
This week we did days 25 through 27 of the Teacher's Manual. We finished our study on rain, and started talking about thunder and lightening. I have to admit - we did not make it to doing our experiment on making rain...just didn't work out this week. We did enjoy reading books on the subject though.
Books we read this week for Science:
It is Stormy by Kelly Doudna
It is Raining by Kelly Doudna
Rumble, Boom!: A book about Thunderstorms by Rick Thomas
Why Does It Rain? by Fran Harvey
I Love The Rain by Margaret Park Bridges
Raindrop, Plop! by Wendy Cheyette Lewison
Franklin and the Thunderstorm by Paulette Bourgeois
Smudge by Julie Sykes
Bible
Seth memorized yet another Proverbs this week. He memorized Proverbs 29:11. Here is the video. You will need to turn your speakers up because he is soft spoken in the video today. (as always if you are receiving this through email you will need to go to the blog to view the video.
Click here
to do so).
We also learned how to draw a map of the bible lands this week using the silly little poem in the teacher's manual. Seth caught on to this really quick and did very well drawing his map.
The Teacher's Manual mentioned making a large map to put up in the room to refer to when we start doing our Old Testament study in a couple of weeks. Well, I tried but I kept being unhappy with my drawing and the placement of the countries and places when looking at other maps that I decided to just find some good maps online that I could print and use. Next week when we revisit our map again and to learn the bodies of the water I will outline around my printed off map with the lines that Seth can make to make his map . but I feel that the printed map with all of the places already labeled will be MUCH easier to use in the Old Testament lessons!
Here is a picture of my nicely printed maps - on the wall, ready to go! (I found a map of the whole area, and then a close up of Israel showing Jerusalem, Bethlehem, etc...
We are just within a couple of weeks of starting the Old Testament Study! I am so very excited!! The reason why I am so very excited is because we are going to be using the
Grapevine Studies Stick figuring through the bible
! It goes along with the MFW lessons so well and I think Seth will really enjoy these and it will help him to learn the stories and put a really fun spin on it!!
The friend of mine that introduced it to me has already completed the Old Testament Overview with her kids so she is letting us borrow her timeline that she made of the old testament. I got that put in our room this week! It hangs over the top of our whiteboard a bit, but, thankfully our board is big enough to handle it :-).
When we do the timeline with MFW we will just clip those pictures along this other timeline where they fit in. I think it will work so nicely together and I am so very excited about this!
Here is a couple of pictures of the timeline up on our wall.
trying to show how it stretches across the whole long wall, and turns to go a bit as well. The picture really didn't come out well.. oh well...
Another thing that I want to mention in the bible section this week is the fact that we have a missionary family that we are praying for as part of our homeschool. Our church supports over 100 missionaries from all over the world. Every year families choose a missionary family to pray for for the next year. We just had our service where we did that a few weeks ago. I chose a missionary family to personally pray for and I also chose a family for the kids to pray for as part of school. The family I chose was the Picketts, who are missionaries to England. This family is quite special to us. Daniel and I really liked them when they came to the church while on deputation almost 10 years ago and have kept up with them since then. Then they had a son on the exact same day that Seth was born! Then last year they were back at our church while on furlough and Seth got to meet their son and they really hit it off!! In fact, Seth asks about him all the time! So with that history I thought they were the perfect family for Seth to be praying for this year! Seth is also going to become pen pals with their son!! I have gotten their address and we will be working on our first letter and package to him next week!
I put up a poster with a picture of the family, a world map so he could see how far they were from us, and a close up map of the United Kingdom. Here is a picture of that poster (I have blocked out their address on the poster for this blog).
Aaron and Alyssa
A couple of weeks ago in co-op classes Aaron's Around the World class learned about Australia. They got to do some dot painting, like what is done in Australia. Aaron really took to this and did an excellent job on his picture!! He has been talking about doing it ever since. So this week he got to show Seth and Alyssa how to dot paint. Here is a video of him explaining dot painting. I figured that we always have a video of Seth, we need one of Aaron too. (remember to
click here
if you are viewing from email to view the video on the blog)
Alyssa wanted to draw on the white board again today. I gave her a marker and man did she go to town!! Look at this piece of art!!
Aaron is taking more and more interest in school! He is really trying hard at his counting and his letters and is enjoying doing workbooks with Seth! It's neat watching him take interest. :-) Here are the kids watching Leap Frog's Letter Factory! It just seems like yesterday that Seth was watching this! After just a few times watching it Seth knew all his basic letter sounds! I am hoping Aaron catches on as quick as well (which I really have no doubt he will!)
We have another fun filled day of co-op classes that we are looking forward to tomorrow!
Well that's all for this week! For a shorter week of school, this really turned out to be a quite lengthy review! LOL!! There are just some exciting things happening! And it just thrills my heart that the kids ask almost every night "is tomorrow a school day?" and when I say "YES!" they start jumping up and down getting so excited!! It just THRILLS my heart!!
I hope everyone has a wonderful weekend!! See you next week!
Kellie