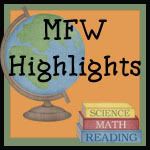 Well another week has come and gone! We are just truckin' right along! :-) We are looking forward to a short week next week due to the fact that we are CAMPING next week!! But more on that later :-) Here is what we did this week!
Reading
We did days 37-41 of the Teacher's Manual (skipping day 40 because there was no reading assigned to it that day. I have found it to be best to just keep moving on reading.). This week we introduced our bible reader and read the first couple of pages! Seth was pretty excited about this. We even took time to make a cute monster book mark for our reader.
We also just about finished our Before We Read workbook for our Pathway reading program. We are super excited to read the first book in our First Steps pathways reader next week!
We also did lesson one of our Explode the Code workbook. I have that this is a perfect workbook to get him to do during his "nap-work" (homework during nap time).
Math
We had quite a fun week in Math this week1 We finished up our study of geometry by reading a book that was teaching the different shapes using Twizzlers candy! Of course this was a winner for the kids!
We also started our focus on addition and subtraction. Seth loved using his counting bears to complete the worksheets in the math book.
I also set up our restaurant for the kids. You can read more details on it by clicking here to see the post I made yesterday about it (and even print off your own menu and quest checks, and waiter tally sheets if you would like!) This was a big hit and is a fun way to teach addition. Seth was adding 4 numbers together playing this game!!
Books we read for Math this week:
The Mission of Addition by Brian P Cleary
Mission: Addition by Loreen Leedy
Dealing with Addition by Lynette Long
Adding Puppies and Kittens by Patricia J Murphy
Subtracting Puppies and Kittens by Patricia J Murphy
Pointy, Long or Round: A book about animal shapes by Patricia M Stockland
Twizzlers Shapes and Patterns by Jerry Pallotta
Videos we watched:
Math Monsters: The making of Tens
Science
For science this week we did days 33-36 of the Teacher's Manual and focused on Rivers. Our focus was mainly through reading books and watching a couple of videos.
Books we read for Science this week:
River Day by Jane B Mason
White Water by Jonathan London
River Friendly, River Wild by Jane Kurtz
The Raft by Jim LaMarche
The Turtle and the Hippopotamus by Kate Banks
Big Day on the River by Sarah Wilson
Three Days on a river in a red canoe by Vera B Williams
What is a river? by Chris Arvetis
Daisy Comes Home by Jan Brett
Up River by Frank Asch
Videos we watched:
Magic School Bus Wet All Over
Magic School Bus Goes Upstream
Bible
We had an exciting week for bible this week!
First - we memorized another Proverbs. Here is Seth reciting Proverbs 12:22. (remember if you are viewing this by email click here to view the video on the blog).
We introduced the timeline this week. I didn't get a good picture of our timeline. I used the string that I had attached to the wall for hanging our projects. I haven't decided if I am going to put the pieces that you are suppose to add to the timeline here or with the Grapevine Studies timeline I have on the other side of the room. Still thinking on that one.
I put Seth, Aaron and Alyssa's birth years on the timeline
Speaking of Grapevine Studies we started that this week! YAY! (sorry...forgot to get pictures). Aaron is participating with us in this :-) and I think both boys are going to enjoy this! I just really think this will make the bible verses so much more interesting than just reading them to the kids!
Another activity that was in the book for this week was to write a letter to a relative (and explaining that the bible is like a letter written by God). Well we were already planning on writing a letter to Mimi this week so that worked out perfect! (So Mimi keep an eye out in your mailbox...it should arrive hopefully tomorrow!)
We also introduced the bible notebook this week :-)
Aaron and Alyssa
I already mentioned how Aaron was participating in the Grapevine Studies stick figuring through the bible with us! I am excited that he will be doing this with us (and I think he is excited he gets to do something that Seth is doing!)
Of course Alyssa and Aaron also get to be involved with the restaurant game! They do a very good job being customers for Seth and love ordering their food! :-)
They are still enjoying exploring their busy box at times. Those times are golden! :-)
Alyssa LOVES LOVES LOVES to write on the white board! She drew this "masterpiece" on Monday.
What's funny is that I didn't erase it and Tuesday and Wednesday she didn't even ask if she could draw on the board. Thursday morning though before she woke up (we can sometimes get to the schoolhouse and get something done before she wakes up) I erased the board and even mentioned to Seth that she would probably want to draw again since I erased her work. Sure enough, as soon as she walked in and saw the clean board the first thing she did was ask if she could draw! LOL!
Oh well - I guess at least it kept her busy!
We had a fun day at co-op classes today! Alyssa is sound asleep and the boys are half asleep on the couch watching cartoons! Co-op classes wear us out!!
Until next time,
Kellie