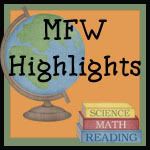 Hey guys! I'm sorry I missed the review of last week. We had a short week and left last Thursday morning for a fun fun "Fall Camping Party". It was a weekend of camping and doing fun fall activities with some friends of our. I blogged all about it on our RV journal - feel free to go check out that post by clicking here.
I will give highlights from that short week of school, along with this awesome week of school on this post. :-)
Reading
Man Seth is doing so well in his reading! It seems to really be starting to click with him! YAY! Last week for MFW we did days 42 through 44 of the TM. This included more reading of the bible reader, which Seth is doing very well with.
This week we did days 44 through 48 of the TM (skipping day 46 since it had no reading assigned). It is neat to see how Seth is starting to retain some of these phonics rules! YAY!
We have found this week that, at least for creation, things are lining up so well with our Grapevine Studies (explained more further down in this post). We are doing our Grapevine studies and bible story the day before we learn the new words and read from our bible reader. (so for example - for those who use MFW - on day 48 in the TM, we will do the bible story and bible notebook on one day, along with our Grapevine Studies, and then the next day learn our new words and read from the bible reader). What I have discovered this week that is neat about this is that I will leave up the stick figure picture from the Grapevine Studies and I will label it with our new words. Here is a picture from day 48 - which was day 4 of creation. You will see the picture (in orange) with the words to learn labeled around the picture. (for the words that were not part of the picture I just wrote them on the side)
I don't know if this will continue to work this well as we move along in the Old Testament - but I am enjoying this for now. :-)
Seth started reading his Pathways reader last week as well! He really is LOVING it and is doing it so well! In the past two weeks he has read the first 3 stories of the book! We spend two days on each story. The first day I will introduce the new words and will read the Teacher's story to Seth. He does very well answering the questions at the end. And then he reads his story. On the next day we review the new words and he rereads his story and then we do the workbook pages that go with the story! I am LOVING this reading curriculum and am so glad we decided to try it out! I will definitely be doing this Aaron and Alyssa!
Seth has been enjoying doing his Explode the code lessons as his homework every day and is doing very well with that as well.
Math
We are still working on addition and subtraction. Seth is doing very well with this and really likes his workbook pages from the math book! He is also enjoying Rocket Math on the ipad as well! He has to solve addition and subtraction problems to earn money to buy parts to build cool rockets. He is so excited that he is doing so well with math now that he is earning a lot of money for his game! :-)
He also had a lot of fun with the workbook pages that involved using the dice!
Books we read for Math over the past two weeks:
Hershey's Kisses Addition Book by Jerry Pallotta
One Less Fish by Kim Michelle Toft
Adding and Subtracting at the lake by Amy Rauen
I can Subtract! It's Not An Act! by Tracy Kompelien
I can Add! It's not so bad! by Tracy Kompelien
Ten Terrible Dinosaurs by Paul Strickland
The Rooster Who Set Out To See the World by Eric Carle
How many blue birds flew away? by Paul Giganti
Science
Over the past two weeks our science focus has been on Beaches and Waves (and we finished up our focus on rivers at the beginning of last week). Once again we didn't do any of the experiments in the TM - just didn't work out for us. All of our science focus has been through reading books, mainly storybooks, on the subjects.
Books we read for science over the past two weeks:
Turtle Turtle watch out! by April Pulley Sayre
Lonesome George, the giant tortoise by Francine Jacobs
A Beach Tail by Karen Lynn Williams
Scaredy Squirrel at the beach by Melanie Watt
Sneakers the seaside cat by Margaret Wise Brown
The Riverbank: The Wind and the Willows by Kenneth Grahame
Moonlight on the river by Deborah Kovacs
What is a wave? by Chris Arvetis
A day at the beach by Ed Briant
The Berenstain Bears go on vacation by Stan Berenstain
Sherman swaps shells by Jane Clarke
Otto goes to the beach by Todd Parr
What the sea saw by Stephanie St. Pierre
Old Shell, New Shell by Helen Ward
Videos we watched for science:
Ready Set Larn with Paz: Seaworthy
I Spy: Seashells by the Seashore
Save Ums: Picnic panic in Wave World
Bible
We did not memorize a Proverbs last week since it was such a short week. Seth memorized Proverbs 13:1.
We have also started memorizing the books of the bible. The video below is Seth reciting Proverbs 13:1 and the first 6 books of the bible!! (remember if you are viewing this on email then
click here
to go view the video on the blog)
And yes, we did have pajama day today! We had a COLD front come in last night...and since we are not planning on getting out at all today we decided it was a good day to stay in our nice warm pjs. :-)
So far Seth is enjoying the bible notebook (of course it is just a lot of coloring, cutting and pasting on the first page LOL). Aaron is doing one as well with him. I will make sure to get a picture of their creation page when they finish.
We are also enjoying our Grapevine studies - we have almost completed the 7 days of creation! Aaron is also enjoying doing this with us as well!
Aaron and Alyssa
As mentioned above, Aaron is enjoying doing the bible notebook and Grapevine Studies alongside Seth!
He also started his weekly speech therapy sessions last week and is doing well with those! He really likes his therapist.
He is also enjoying playing computer cool school while sitting in his bean bag chair! He will sit there and play his games through all of Seth's reading and math lessons. (I wish I could get his sister to cooperate as well!)
Sorry there were not that many pictures! We just get so busy and forget to get the camera out sometimes!
Planning Ahead
We are hosting Thanksgiving Dinner at our house this year and I am so very excited! I want to put a very big emphasis on Thanksgiving this year! Starting today, we are going to start decorating our house for Thanksgiving. The kids are going to help me make the decorations :-) I have found some really cool ideas and am looking forward to seeing how everything turns out. I think it will be so very neat!
I am also fixing to start planning what we are going to do for School for the month of December. It is going to be very relaxed for us. We will not be doing anything new in MFW or Pathways, or anything else. It will be a month of reviewing what we have already learned in reading and math. I am hoping to come up with some fun Christmas games to do our reviewing with. I thought about taking a complete break but my kids do so much better when there is structure and routine in our day so we will come to the school house. But it will be for these fun review games or to work on Christmas decorations or work on making Christmas presents. It should be a very fun month and I am very much looking forward to it! (just need to figure out how to find the time to plan for it - LOL!)
Well that's it for now!
Until next time,
Kellie