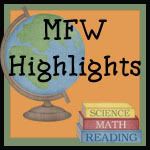 Here I am once again having to play catch up on my reviews. But if you are a normal follower of my blog then you know that we have been busy
focusing on Thanksgiving
! :-)
So I am catching up with what we did last week and this week. Despite all the fun Thanksgiving stuff we have been doing we have also managed to have two full weeks of school :-) Go Us!! To reward ourselves we are taking next week, the week of Thanksgiving, off!! YAY!! On Monday and Tuesday I am planning on having us come out to the school house because I want to do some planning for school for the month of December (which will be all review of what we have already learned - no "new school" happening that month) but the kids will be able to just play puzzles or watch videos while I work on planning!
But I will post more about all that later - on to our review!
Reading
The past two weeks we have gone through days 49-58 of the teacher's manual of MFW (skipping days 50 and 55 due to the fact that there is no reading on those days - we really are not doing exploration days at all). We have finished the first story of the reader on creation and read the second story this week! Seth is doing very well in reading. He is doing better than I would have expected retaining the phonics rules. I am excited about the month of December - when we will have a chance to cement the retention without worrying about adding another rule almost every day!
I do want to make a note about day 57 when the focus was long vowel e spelled ea - I did things a bit different than the TM stated. I introduced the rule to Seth of "When two vowels go walking the first one does the talking." I even made this illustration (picture below) on the board, which Seth really liked (he loves for me to do things like that). To me I think he will retain this rule better this way than the way that they were having you explain it in the TM. :-) He is ready to see other vowels "go walking". LOL!
In Pathways we are really moving right along! We read 4 new stories in the past two weeks and he is doing REALLY REALLY WELL!! I can't say enough how much I LOVE THIS PROGRAM! I have been so impressed with it so far! He doesn't moan and groan about having to do the worksheets and he reads the stories very well! YAY!!
He is also still enjoying Explode the Code. He does his pages as his napwork (that's what we call homework).
Math
We continued our work on addition and subtraction the past two weeks. He has gotten really good with the addition and does it now using his fingers only to help him. With subtraction he is still using his counting bears or cubes but is doing well with it. He has also grasped the + and - sign and know what each one means!
We didn't read as many books on math the past two weeks but here are the books that we did read:
The Smushy Bus by Leslie Helakoski
The Action of Subtraction by Brian Cleary
Subtraction Fun by Betsy Franco
Panda Math: learning about subtraction from Hua Mei and Mei Sheng by Ann Whitehead Nagda
Science
Our focus in science the past two weeks was 'Under the Sea' and 'Sun & Moon'. As I have stated before all that we are really doing for science is just reading lots of books on the subject we are focusing on. We will talk about the subject as we read and we also watch some videos as well. But this is really been the extent of our science focus right now. Seth is just getting familiar with the subjects, learning the basics through fun stories.
Books we read over the past two weeks on these subjects:
Across the Wide Ocean by Karen Romano Young
Gentle Giant Octopus by Karen Wallace (note on this book - we LOVE this book! We read this as part of the kindergarten curriculum and were excited to read it again this year. Octopuses are FASCINATING!)
Peg and the Whale by Kenneth Oppel
Yummy, Yummy! Food for my Tummy! by Sam Lloyd (very cute silly book that the boys loved)
Big Blue by Shelley Gill
Bright Stanley by Matt Bukingham
Waiting for the Whales by Sheryl McFarlane
Follow Me! by Bethany Roberts
Baby Beluga by Raffi
Little Honey Bear and the Smiley Moon by Gillian Lobel
I'll See You When The Moon is Full by Susi Gregg Fowler
Grandpa Takes Me To the Moon by Timothy R Gaffney
I Took the Moon for a Walk by Carolyn Curtis
Catching the Moon by Myla Goldberg
Long Night Moon by Cynthia Rylant
Little Wolf and the Moon by Marjorie Dennis Murray
When the Moon Forgot by Jimmy Liao (Seth LOVED this book)
Full Moon Barnyard Dance by Carole Lexa Schaefer
Little Rabbit Couldn't Sleep by Beth Shoshan
The Moon Might Be Milk by Lisa Shulman
Little Moon Dog by Helen Ward
Videos we watched:
Happy Birthday Moon
Moon Man
A closer look at space: the moon
Bible
We got Proverbs 14:30 memorized last week. Here is the video of him reciting that. (
click here
if you are viewing this post from email to see the video on the blog)
We didn't get a proverb memorized this week :-( (just so much going on I just didn't do a good job getting to that). But Seth has memorized the first 16 books of the bible now!! Here is a video of him reciting them! (once again
click here
if you are viewing this from email to see the video on the blog)
We also finished our study on creation and we did the story of the Garden of Eden and The First Sin. I used the stories in the TM but used the stick figures from Grapevine Studies to tell the story with! Aaron participates in this with us. Both boys have a notebook to make their drawings in and then after we have completed the lesson both boys have to go up to the blackboard and retell me the story using the pictures on the board! I am happy with both boys retention but I am so impressed with Aaron's retention! He is doing so well. Below are pictures of the boys at the board retelling the story of the Garden of Eden.
And here is a shot of my teacher's manual with my little stick figures drawn in where I want to put them in the story!
Aaron And Alyssa
They are doing better and better about learning how to quietly play during school time. Aaron loves playing his games on the ipad or playing computer cool school. And of course having him more involved with Seth now that the bible lessons are more involved has been a good thing as well :-)
Aaron is doing well at his speech therapy sessions. This week his therapist gave us a homework page of three syllable words to work on saying (working on getting all the sounds in). Since Seth has recently been introduced to learning syllables I figured out a way to do an exercise that would help both! I put all the words on a paper (with pictures) and then put three circles beside them. Aaron has to dot paint or stamp each circle as he says each part of the word (like he did in his session and LOVED) and Seth has to dot paint or stamp each circle when he says each syllable! They enjoyed doing this! I think Aaron really liked the fact that he Seth was the doing the same thing he was :-). Aaron's therapist wants him to be fluent in the words by next week and I think by doing this we will be able to accomplish that!
Of course Seth had to stamp his hand - LOL!
Of course Alyssa and Aaron also love story time and love watching the videos as well.
And our mascot loves to come in and snuggle during video time as well :-) Such a spoiled little puppy!
I think Seth is excited about his week off next week! :-) He has worked so hard - he deserves it!!
We will have one more "normal" week after next week and then we are going to be in our FUN December school!!!
Until next time,
Kellie