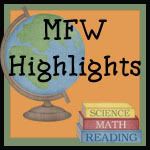 We had a fun week this week! We are continuing to love our curriculum!
Reading
This week we did days 15 through 18 in the teacher's manual. We continued our focus short vowel sounds with looking specifically at o and u, and then on Thursday started with long vowel a, learning the rule "Silent e makes the other vowel say it's name". After we finished the lines on the workbook page he seemed to be still struggling with the concept so we tried one of the games suggested in the back of the book. I put all the words for the day on the white board and gave Seth the eraser. I told him he could erase the word when he got it right. After doing a few that way he really started grasping the concept! And I LOVED watching the light bulb come on in his head as he started "getting it" (one of the greatest joys of homeschooling!!)
I guess propping a foot on the wall helps him concentrate - LOL!
Seth is also continuing to read short books during our story corner time! He is doing really well with his reading. I am very proud of him.
Math
This week we did days 14 through 17 in the teacher's manual, continuing our focus on numbers and counting. Seth is very good at recognizing his numbers and can easily count to 100 so this was pretty much just a review for him. But he still enjoyed doing the worksheets in his math book.
Books we read on this concept:
How Many Kisses Do You Want Tonight by Varsha Bajaj
Tally Cat Keeps Track by Trudy Harris
Some of you may remember my post a few weeks back about the pattern blocks and how I hadn't purchased the pattern block book. I just used templates from online but they were way too easy for Seth. Well, I ultimately decided to go ahead and purchase the pattern block book and I am so glad I did!! During our exploration day this week we did a couple of templates from that book and it was a lot more challenging for Seth! He enjoyed trying to figure it out though!! Yay! We didn't do any of the worksheets that day though, just had fun working with the templates.
And Aaron enjoyed doing the simple templates that I had found online!! YAY!! So I didn't waste paper printing those out LOL! I was really pleased at how well he did with them and he had fun working with them too. (I think it helped him to feel "big" like his brother).
Science
We did days 14 through 17 in the teacher's manual this week, focusing on seeds and how they grow! On Exploration day we did the experiment suggested the book. The night before I soaked some beans (decided that this was a good time to go ahead and soak some beans for supper the next night as well!! YUM!) On exploration day we examined a few of the beans and studied their different parts. We then put the rest and wrapped them in very wet paper towels and foil. We are pulling out a couple each day to observe how they are changing.
We are recording the changes in our science journal.
Books we read this week on this topic:
Mouse and Mole and the Year Round Garden by Doug Cushman
How A Seed Grows by Helene J Jordan
Max's Magic Seeds by Jean-Pierce Corderoch
Rose: A Flower's Story by Joanne Randolph
Bible
Seth learned another proverbs this week. Here is the video of him reciting Proverbs 23:12.
(Remember if you are viewing this from email you will have to go the blog to see the video...it won't show up in the email)
He told me the other day one of his favorite things about school is learning his proverbs :-) I am so glad he is enjoying this! He gets excited about being able to recite them to Daddy during supper every night! :-)
Aaron And Alyssa
Of course I am still trying to figure out what to do with Aaron and Alyssa during school time... I have a feeling this will be a common theme all year!
Aaron did learn how to make the letter A this week, on his own. (If I would have asked him to do this he would have refused...he's just that way - he is going to do things his way on his time). Anyways, here is a picture of his A he put on the white board.
Alyssa enjoys writing on the white board but you have to keep a very close watch on her to make sure she doesn't try to take the marker to another part of the room to "draw". That little stink!!
We are going tomorrow to our first field trip with our homeschool co-op group! We are going to tour a fire station and then going to the park for lunch and play time! And then we have to go grocery shopping and get things ready for MIMI to come see us for the weekend!!! :-)
See yall next week!
Kellie