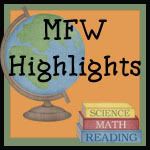 WOW!! It is hard to believe that we have just finished our 6th week of school!! OMG!! We have had 20 days of school (LOL that number doesn't seem as high...but it is due to the fact that we only school 4 days a week...)!!
We are LOVING the MFW 1st Grade Curriculum still!! And it has been so neat this week to see Seth's reading clicking like it has been!! This week has been a good week to remind me what homeschooling is all about!! I love being right there when that light bulb goes off in his head and he reads a word! I feel so privileged to be able to experience this with him, something that a lot of moms are not able to do. Thank you God for giving me the opportunity to be able to do so!
Reading
We did days 19 through 23 in the teacher's manual. One of the things that I love is how I can change up the lesson plans as needed. We went ahead and did a reading lesson on our exploration day this week because we are not going to be able to do school on Monday due to Aaron's speech therapy evaluation. But I don't think Seth really minded that much because he is enjoying his reading lessons right now. Our main focus on reading this week was the silent e and how it makes the other vowels say their name. Seth also finished his animal tales book that he made writing the sentences from each day and drawing his pictures to go along with it! He is very proud of his book and can't wait to show it to Daddy.
Seth has earned $1.00 in his book fund!! We are working real hard to see how much money he can earn before our trip to a BIG bookstore in a couple of weeks!! :-)
Math
We got through days 18-21 of Math this week! We continued our focus on numbers and counting and worked on learning how to count by 2, 5 and 10!
Books we read this week for Math:
Penguin Pairs: Counting by Two's by Amanda Doring Tourville
Artic Fives Arrive by Elinor J Pincezes
The Big Storm: A Very Soggy Counting Book by Nancy Tafuri
Lyle Walks the Dogs by Bernard Waber
Cat Count by Betsy Lewin
Pie for Piglets: Counting by Two's by Michael Dahl
I have to note about the books - the good thing about reading literature to help with our math concepts is the fact that it gets Aaron and Alyssa involved. They loved the reading of these books and loved helping me count in the books. Through just reading those story books, their counting skills have improved :-)
Science
We did days 18-21 of the Teachers Manual for science this week. Our focus this week was trees. Exploration day was especially fun this week as we made bark rubbings and climbed trees. You can read more detail about it here.
On exploration day we also watched the Reading Rainbow episode "Once There Was A Tree". (I want to give another shout out to my awesome Mom for supplying us with these video resources!! Thanks MiMi!!! We love you!!)
Books we read this week on the subject of trees:
Curious George Plants A Tree by Margaret & H.A. Rey
The Giving Tree by Shel Silverstein
Little Bear and the Wishing Tree by Norbert Landa and Simon Mendez
The Man Who Lived in a Hollow Tree by Anne Shelby & Core Hazelaar
A Tree for Emmy by Mary Ann Rodman
Bible
We memorized Proverbs 21:23. Here is the video of Seth saying his Proverbs. (remember if you are viewing this from email you will have to go to the blog to see the video)
We also talked about the books of the bible and talked about the different authors of the bible, and how God is the true author. Seth doesn't believe that he will be able to memorize the books of the bible later in this year. I can't wait to see his face when he does :-)
Aaron and Alyssa
Well we found something to keep Alyssa busy while we are doing reading lessons - PLAY-DOH!! (at least that is what worked this week...hopefully it will next week too LOL!!)
Aaron was my hard one this week. Aaron would get very upset when I would not let him do what HE wanted to do when HE wanted to do it because it would be distracting to Seth trying to do his reading! Aaron ended up a couple of times standing outside the schoolroom because crying fits are not allowed in the school room. By the end of the week though he was being more compliant when he realized that he is not always able to get his way.
At least, so far, Aaron and Alyssa are not being super difficult at the same time LOL! Lord help us all when that happens!
:-( And on a sad note, after school this morning the kids were playing outside and Alyssa encountered her first cactus and decided to grab it with both hands!! I don't know if I have ever heard her scream that bad!
But after drying glue all over her hands and peeling it off and then using duct tape I think we got all the quills.
All better Mommy!
We have co-op classes again tomorrow and the kids are super excited about that! Then we are looking forward to a spending a fun weekend with Daddy - just enjoying some family time! :-)
I hope you all have a good weekend as well!
Until next time,
Kellie