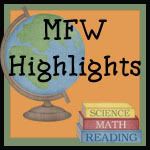 I am going to start linking up with a My Father's World blog hop with a "week in review" post! I am looking forward to the chance to connect with other MFW moms!!
We finished Week 4 of our first grade year this week! (for others using MFW 1st grade - this does not line up with week 4 of the teacher's manual. We only school 4 days a week and I am not trying to double up on work to turn the MFW 5 day schedule to our 4 day schedule...so I will state what days we do as listed in the manual as best I can...) And actually this week we only did school for 3 days because we took Labor Day off! (Friday is our co-op day so we weren't able to move day 4 to Friday this week).
Reading
This was the week where we really started doing some 1st grade "stuff" and Seth was so happy! He was so tired of writing his alphabet (we are going to have to work on his dislike of handwriting LOL)! Anyways, we did days 12 - 14 of the teacher's manual. We learned what a vowel was and learned the 5 vowels of the alphabet. We discussed in detail the short vowel sounds for a, e, and i.
Seth read some short books in our reading corner that used short words with the vowels a, e, and i. You can go to
this post
to see what our reading corner is all about and go to
this post
to read more about Seth being able to sit on the "bunny cushion" while he read to us!
Oh and we have started an idea that I found at
pinterest.com
. Have you discovered pinterest yet?? OMG! It can be very addicting but I am finding some great ideas on there! And I love it so much better than bookmarks because of the pictures!! So cool!! Anyways, back on topic LOL, one idea I found was making a paper chain of books your child has read. Now the whole idea they had was "
I Can Read 100 Books"
and it was for a classroom to see which kid could get to 100 books first. I just liked the whole idea about making a chain - something that Seth could literally see growing as he read books. So I made "Seth's Book Chain". Any time he actually reads a book himself he gets a link on his chain. I will try to remember to periodically put an updated picture of our book chain on her so yall can see how much it is growing as well.
Math
This week we did day 11 and 12 of math, which finished up our sorting and classifying concept. You can go to
this post
to see more details on activities we did to learn this concept. On Thursday we did day 13 which started our numbers and counting concept. We played a game of Number War (a game mentioned at the beginning of the Teacher's Manual). I made my game with Mickey Mouse paint cards from Home Depot. I grab a few when I think about it when I am in that store and have built up quite a collection. Seth also enjoyed his color by number page in his math book.
Science
We finished up our study of the seasons on Wednesday (day 13). We found a lot of good books in the library on seasons. Here is the list of books we read:
4 Stories for 4 Seasons by Tomie de Paola
What Can It Be? Riddles about the Seasons by Jacquiline A Ball
Red Sings from Tree Tops by Joyce Sidman
All Around the Seasons by Barney Saltzberg
On Thursday we began our study of how flowers grow. We read our pages in our Things Outdoor book and then we read Mouse & Mole and the Year-Round Garden by Dough Cushman.
Bible
Seth memorized Proverbs 10:5!! Here is a video of him saying his proverb :-)
(if you are viewing this post by email you will have to go to the blog to see the video)
On Wednesday we started our memorization of Proverbs 23:12. On Thursday we did our first copywork of our Proverbs! I was proud of Seth's handwriting!! Now he did forget a few words (which you can see we added at the bottom) but overall he did very well. To be honest, he is a typical little boy and did not like doing it, but was very proud when I told him how well his handwriting looked.
We also made our scroll from our alphabet pages. Seth was very proud of his scroll. (I used unsharpened pencils instead of dowel rods for the handles).
We have our first week of co-op classes with our homeschool group tomorrow (Friday)! The kids are super excited to see all their friends again and are very excited about their new classes. I am actually teaching two classes this semester. I am teaching a puppet fun class for ages 2-5 (that both Aaron and Alyssa will be in) and a sewing class for girls ages 7-12! I am really looking forward to this as well!!
Alyssa and Aaron
I am still trying to find out what works with Alyssa and Aaron to do during school time. Of course with Alyssa being only 2 I am not pushing school at all! And Aaron, at 4, is still in pretty much control of that as well. There are days when he wants to do worksheets and he wants to do some of the fun activities with Seth, and there are days when he wants to lay in the floor and play with his Buzz Lightyear!
I had mentioned in a prior post that hubby is letting us use his ipad now for school! Well Aaron has a favorite game that he loves to play on my phone (when I let him). Well we put it on the ipad today and he spent the majority of the school time playing that game! It is an animal matching game and he is actually very sharp when it comes to memory games! I didn't have a problem with him playing this game because it really helps his concentration skills! (and as you can see in the picture Alyssa liked watching him play too!)
Alyssa did ask to play computer cool school today so I went ahead and set her up a profile and let her play on the drawing screen. She had fun and looked so cute up at the desk.
Oh - and I do have to say that you will probably no longer see pictures of the kids in their pajamas in the school pictures. Hubby has told me that he would rather see them dressed, especially if I am going to be taking pictures of them and posting them on the blog. And he is right - I agree. :-) So this morning we added "getting dressed" to our routine of getting ready for school. And I have to be honest and say I think it helped them - I think it helped the mindset. (but I do occasionally want to have a "pajama day" for school...because that is one of the beauties of homeschool - but if we only have it on occasion it will make it to be a fun and special day!) :-)
Well, I think that covers everything for this week! Until next time,
Kellie